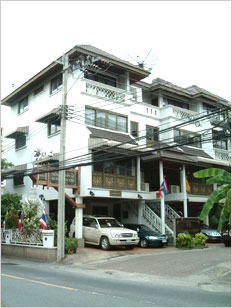 Nisa currently has two branches. One is
Located at 32/14-16 Yen-Akart Road, in
the Sathorn district of Bangkok. The
School is near the shopping and       
entertainment district of Silom, and is easily accessible through the subway system by getting off at Lumpini station and taking a motorcycle, taxi or tuk-tuk.
The other is located on ninth floor of the
Emporium Tower in Sukhumvit Road Soi24
Bangkok.
Our students come from various countries around the world, and from all walks of life; among them are diplomats, government officials, businessmen, housewifes and young travellers. Our classes are suitable for a variety of purposes, such as general conversation, Thai for business people and diplomats, reading and writing, and preparation for the Ministry of Education's Grade Six exam, All of our courses are also aimed at providing students with useful insights into Thai culture through activities such as Thai cooking classes and brief seminars on Thai festivals and traditions.
Nisa has been in business for over three decades and our staff consists of qualified teachers with years of experience in Thai language teaching. We produce our own textbooks suitable for all levels from beginning to advanced, and also make use of authentic materials such as newspaper articles, documentaries and film. Although both instructors and administrative staff are fluent in  the English language, we encourage the sole use of Thai in class right from the beginning level in order to maximize student fluency.