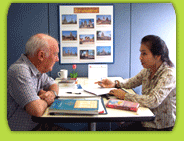 Thai language can seem a big challenge to foreigners when they first approach it.It has five distinct tones, which, while being difficult to reproduce, play an important part in determining the meaning of Thai words.
Most  people at beginner level, therefore, seem to feel overwhelmed by pronunciation issues, and the majortity still struggles with it at pretty advanced stages of their studies.
On the other hand, although few find pronunciation free of challenger, most students seem to have no problem with Thai grammar, which is much easier than in English and most other languages.
 
Some advise for an efficient study of the Thai language includes a full-immersion approach. Living in Bangkok it is in fact very easy to practice speaking even at beginner level, as taxi drivers and shop assistants' English abilities are often quite low. Most of them, therefore, seem to be more than happy when a foreigner speaks to them in Thai, and you may find yourself having your first conversations earlier than you expected.
 
According to the purpose of your learning Thai language, you can decide whether you want to develop only your listening and speaking skills, or opt for a more complete approach including reading and writing. While many students on a short visit choose to focus on their.